13/09/2019 - Portraits
by serge vanmaerck
Christophe Ameeuw
Écaussinnes International
As head of Écuries d'Écaussinnes and Equestrian Events Management (EEM) in Walloon Brabant, Belgian-born Christophe Ameeuw organises competitions in Paris, Hong Kong and New York. His new initiatives are known as Lausanne, Riders Lab and The Auction. Let's meet him.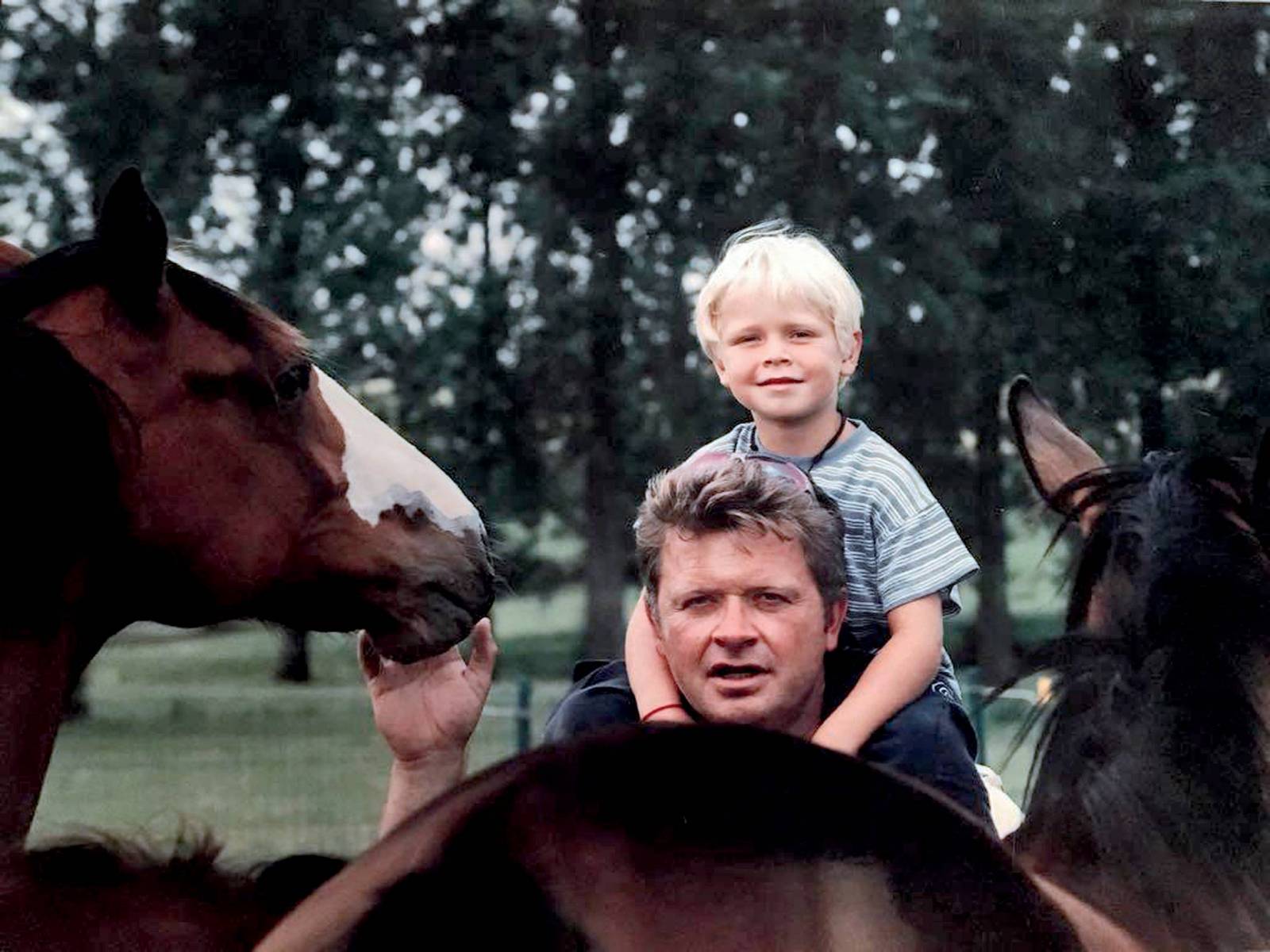 As a city child – he was born in Schaerbeek in 1968 –, Christophe Ameeuw became fascinated with horses very early on. His parents took him riding when he was very young, and from an early age they would take him to the Brussels Showjumping competition every year. At that time, this event took place at the Heysel Stadium, with the most important families in the country in front of the best horses and riders on the planet. It was the Nelson Pessoas and Eric Wauters of the day who gave him a taste for horses and showjumping (see box on the Brussels Showjumping competition in the online version).
A new land
Christophe was barely 5 years old when his parents left the capital and moved to Écaussinnes. Christophe found a small stable not far from his new home where he continued to ride. He later had riding lessons there in exchange for student jobs.
Ameeuw bought this small stable some years later, and transformed it into a vast estate with cutting-edge infrastructure. He turned it into what has, today, become a key location in the world of international equestrian sport.
Simultaneously, he started organising competitions. Today, the Longines Masters Series of events in Paris, Hong Kong and New York is all down to him. And from June 2019, Lausanne has become a new city leg in this series.
"The new Longines Masters of Lausanne was held from 20 to 23 June on the banks of Lake Geneva, which is home to no fewer than 50 international sporting organisations, including the International Federation for Equestrian Sports (FEI) and the International Olympic Committee (IOC). The Longines Masters Series now has a fourth leg, transposing its 'signature' concept outdoors, with the idyllic setting of the banks of Lake Geneva as its backdrop."
ECAUSSINNES STABLE FACILITIES
Hussard – What is behind your desire to keep going further in organising equestrian events?
Christophe Ameeuw – I have always had great ambitions to change attitudes in our sport by creating series. And I have always invested in my dreams of top-level showjumping to please the media and the general public, in order to attract sponsors and give them a return on investment. IMG-McCormack has been an inspirational company in this regard. McCormack came up with the idea of organising events, looking after their media coverage, inspiring a new generation with ambassadors for its events, and therefore closing the loop. I don't want to organise too many events, but just enough – every two months, for example – to offer 360° communication year-round: in Paris, the talk is of Hong Kong, in Hong Kong the talk is of New York, in New York the talk is of Lausanne, etc. And the talk includes the partners and the cities that work with us throughout the year. For this communication, we need to develop a TV network, we need to be present with the digital tools for social media and we need to enhance all this over time. So there is work to be done as this concept has to be appropriate for Europe, Asia and America.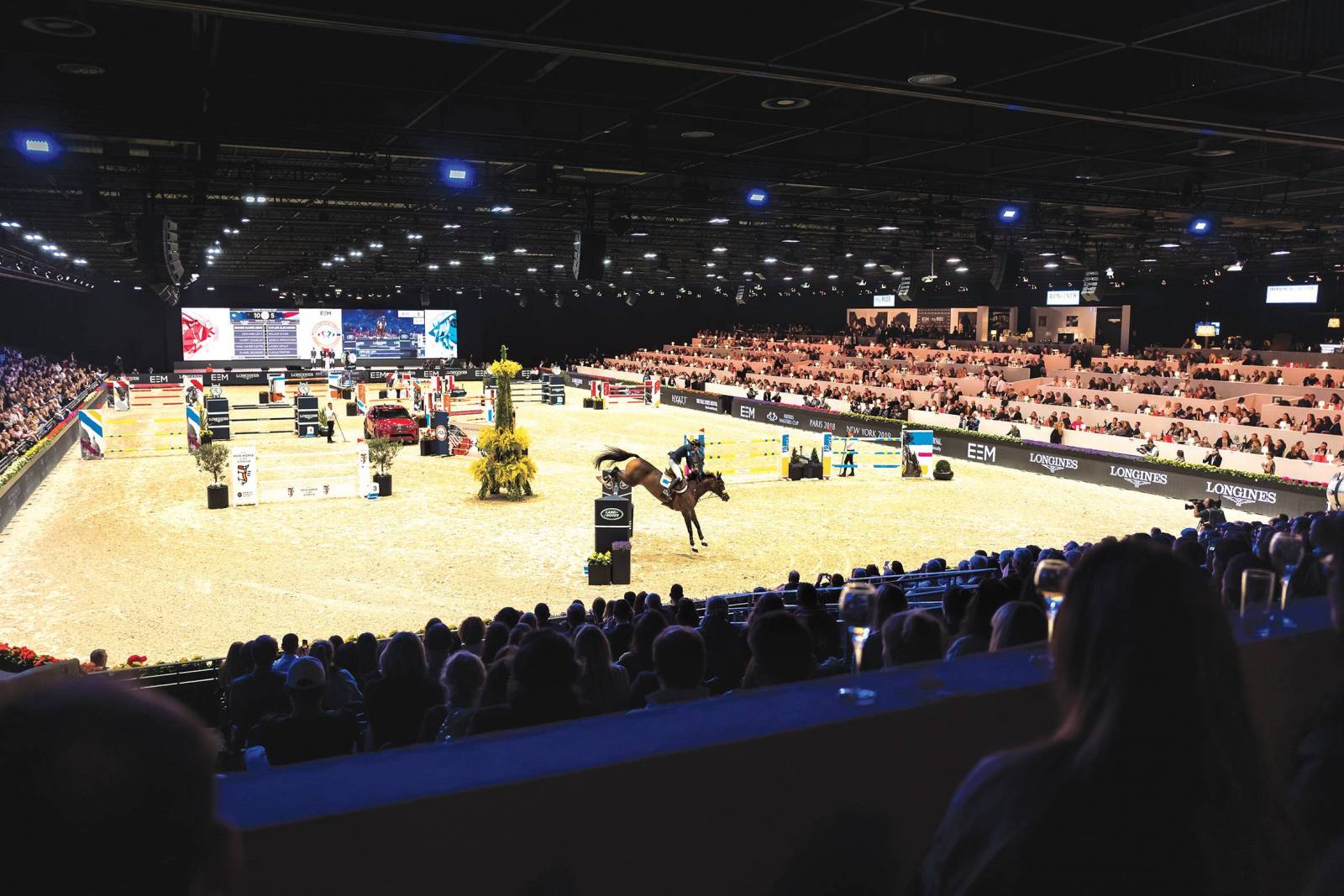 How do you ensure the durability of your events in the long term?
In several ways. One new initiative in this area is the creation of a Riders Lab: a laboratory that trains the riders and horses of tomorrow. Through a dedicated programme at our events, young riders selected by a well-known team manager, someone from my committee and the International Federation will be able to take part in five-star events, which they are not able to enter elsewhere.
So, in Lausanne, a select group of talented young riders was invited to take part in the Longines Masters alongside the best riders and horses in the world. This group – Pieter Clemens and Arnaud Doem from Belgium, Bryan Balsinger from Switzerland, Edward Levy, Alexandra Paillot and Agathe Vacher from France, Filipo Marco Bologni from Italy, Marcel Marschall from Germany, Jurre Van Bommel from The Netherlands and Hikari Yoshizawa from Japan – were all standard bearers for this Riders Lab at the Masters One City of Lausanne 1.55m.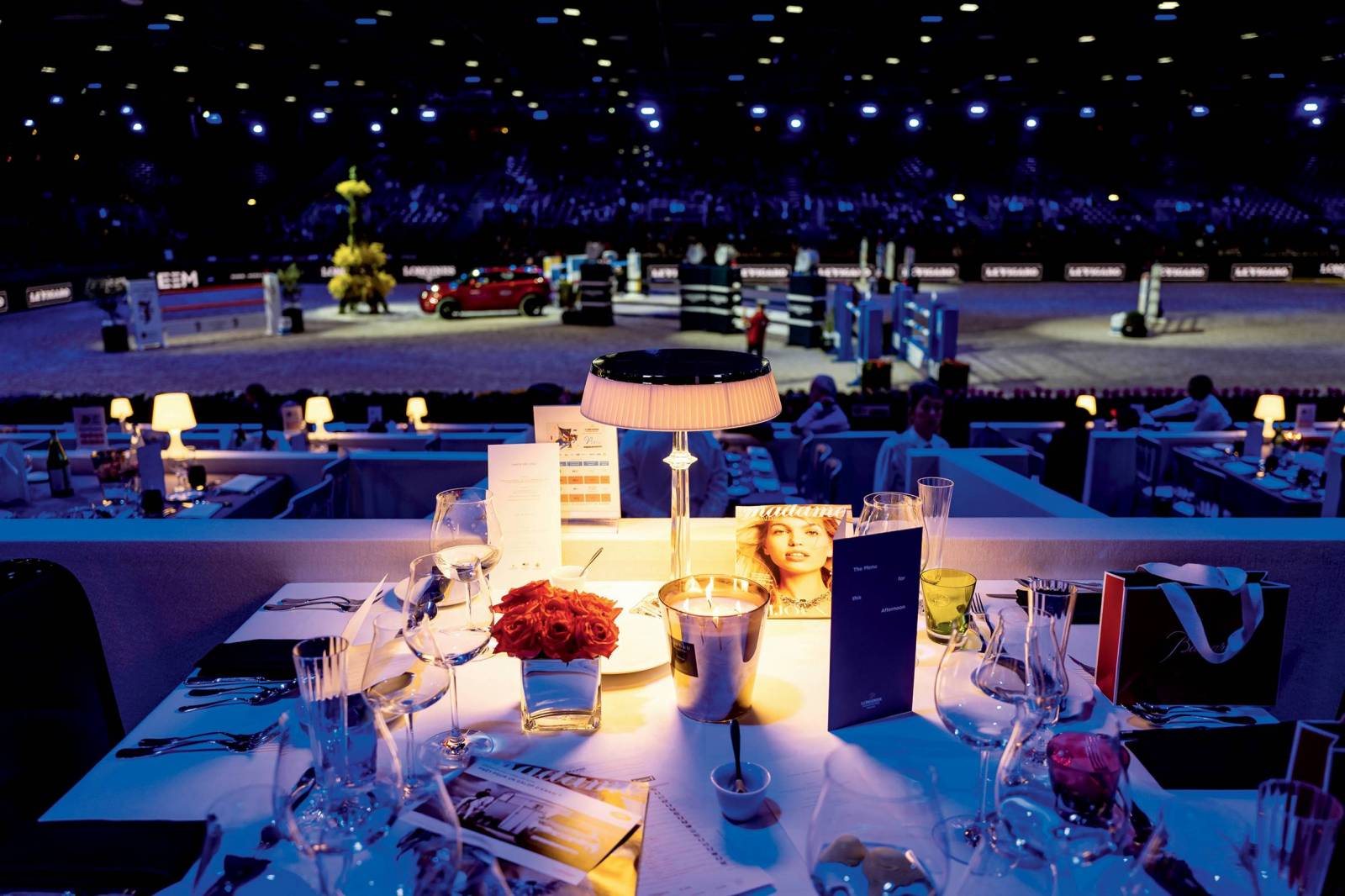 Is presenting promising young riders sufficient to attract a new audience year after year?
Our desire has always been to continue highlighting showjumping on the existing international equestrian scene and to reach a new audience around the world. The future of this sport lies partly in creating new icons for the young generation of riding enthusiasts. So EEM has created the Riders Lab to support, train and enable the best young riders to compete in the top competitions. We can teach them to look for sponsors, work with their agents to manage their sporting career and their image, express themselves appropriately in front of a microphone or a camera and so, eventually, become ambassadors for our sport, our sponsors and our events.
So young riders are actors on the circuit, but elsewhere as well.
With the Riders Lab, we are creating a kind of star system for the future with the main actors in our sport, for the benefit of themselves, the public, the sponsors and our sport in general. The grandstands do not fill up by themselves. We must make every effort to communicate the attraction of our sport to as many people as possible. The objective is to invest in a new generation over the long term to ensure durability for everything we have created in terms of events. This programme has been set up with the EEM teams, and with professionals from our own sport and from other sports to broaden the experiences. We place these young people in the spotlight. All the EEM teams support them so that they express themselves properly in front of the media. And if any sponsors appear, we teach them to sell themselves to these sponsors appropriately and to negotiate with them. We need to ensure that we produce an attractive new generation for our sport.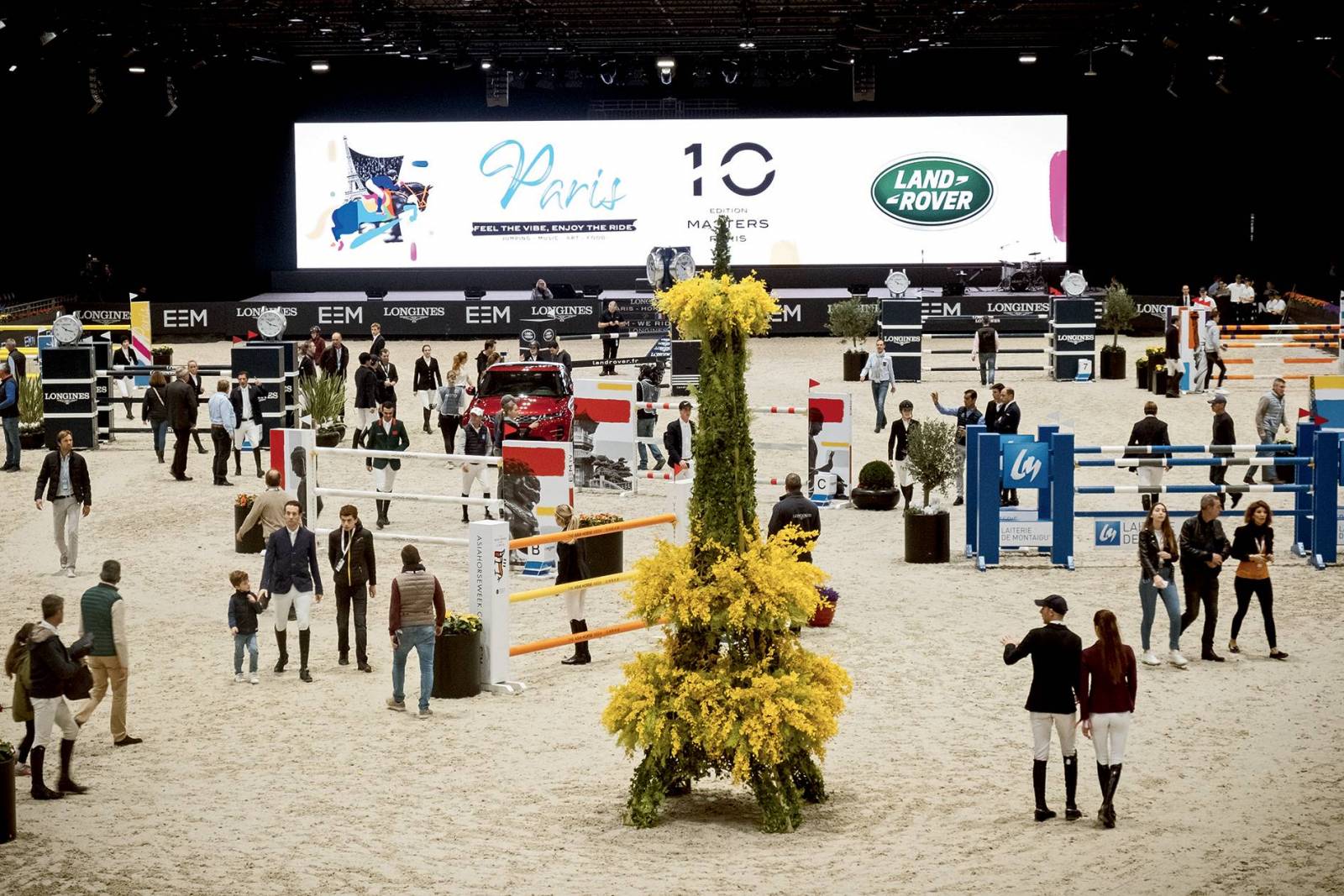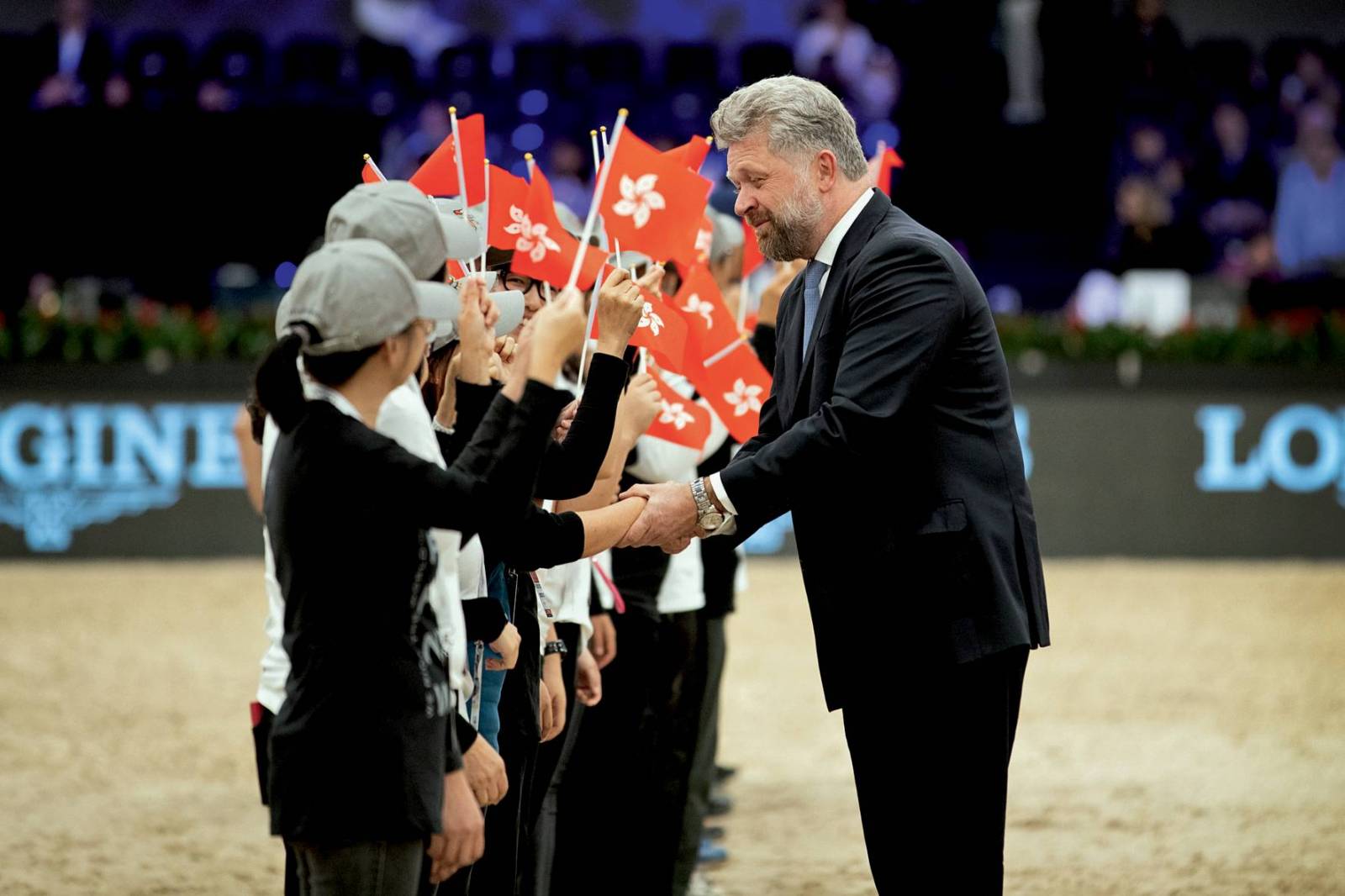 You stress the importance of the riders, but there are the horses as well.
The stable is still very active in Écaussinnes. It's at the very heart of our traditional, family business with the riders and horses. The comparison with a wine and its vineyard works well: the end client of an outstanding wine always wants one day to visit the chateau linked to the vineyard that has produced it, as it is the spirit of the product. It's the same for us.
The Écuries d'Écaussinnes will remain the family business and the cradle of our activity, our horse products, our breeding, our master classes, etc. I love horses; they are my passion. And, here too, we're going to grow: more stallions, more products. The Écuries d'Écaussinnes are my roots.
The Canadian Olympic champion Éric Lamaze has been based at Écaussinnes for three years with 50 horses, but there are other riders here too. My children love horses as well. This stable is their domain. My daughter Louise recently became the Belgian runner-up in her category. The love of horses remains the foundation of everything.
You have recently launched a new initiative focussing on selling the best horses.
Yes, a new concept called The Auction, in collaboration with the auction house Arqana. Artcurial, which has an excellent reputation in France, invested in a racehorse auction house whose main platform is in Deauville, where the prestigious Yearling sales take place every year. I met the Arqana management and we created The Auction, presented by Arqana. Our sport is evolving and I think we need to transform how horses are sold in the same way as we have transformed how art is sold in the past 35 years. In other words, making everything official and visible. Arqana's expertise in racehorses can therefore be brought into the field of show jumping horses, and my expertise and that of my clients into the field of racehorses. These two communities, with their extraordinary purchasing power, can exchange products. One can invest in the other, and vice versa. The first sale was very successful. In February, we held a live sale in Hong Kong, as part of Asia Horse Week, and in Deauville, also online, offering around twenty embryos created from some remarkable stock. Our objective is to provide the best offer on the market to the highest bidder.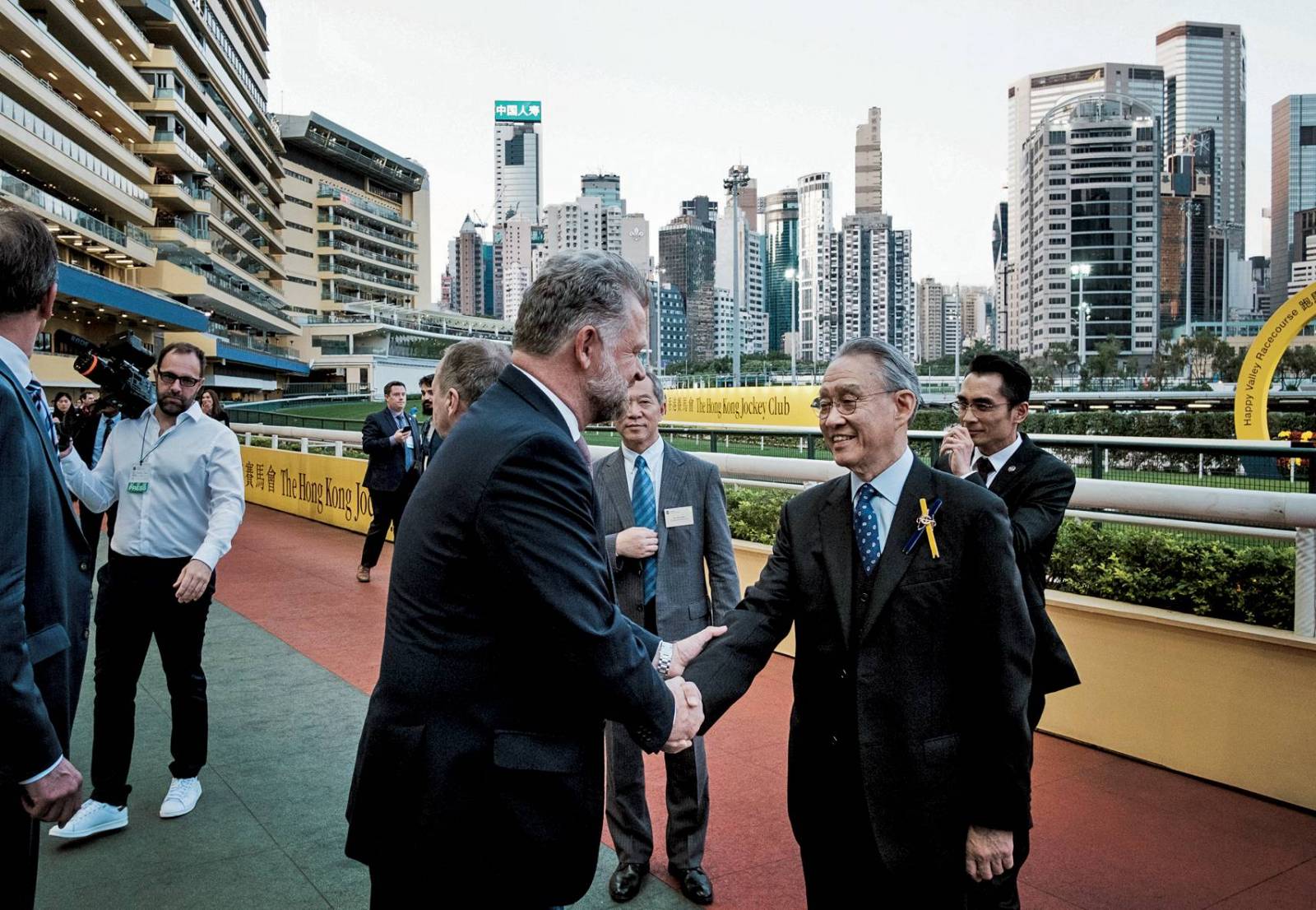 CHRISTOPHE AMEEUW AND DR ANTHONY W K CHOW SBS JP, CHAIRMAN OF THE HONG KONG JOCKEY CLUB, ATTENDING THE HAPPY VALLEY RACE COURSE DURING THE LONGINES MASTERS OF HONG KONG 2019
For the next step, we're going to select the best horses by explaining to the owners that we will showcase their horses in December in the best venue in Paris, the Cirque d'Hiver, in front of the top clients in the world. We're communicating this sale at all our events in Asia, America and Europe, wherever EEM organises its events. Everything is interrelated. This meeting between racehorses and showjumping horses through Arqana can provide synergies to both disciplines. Our sponsor Longines is present at races and at showjumping events. In the long term, why not consider an event where the two disciplines compete together.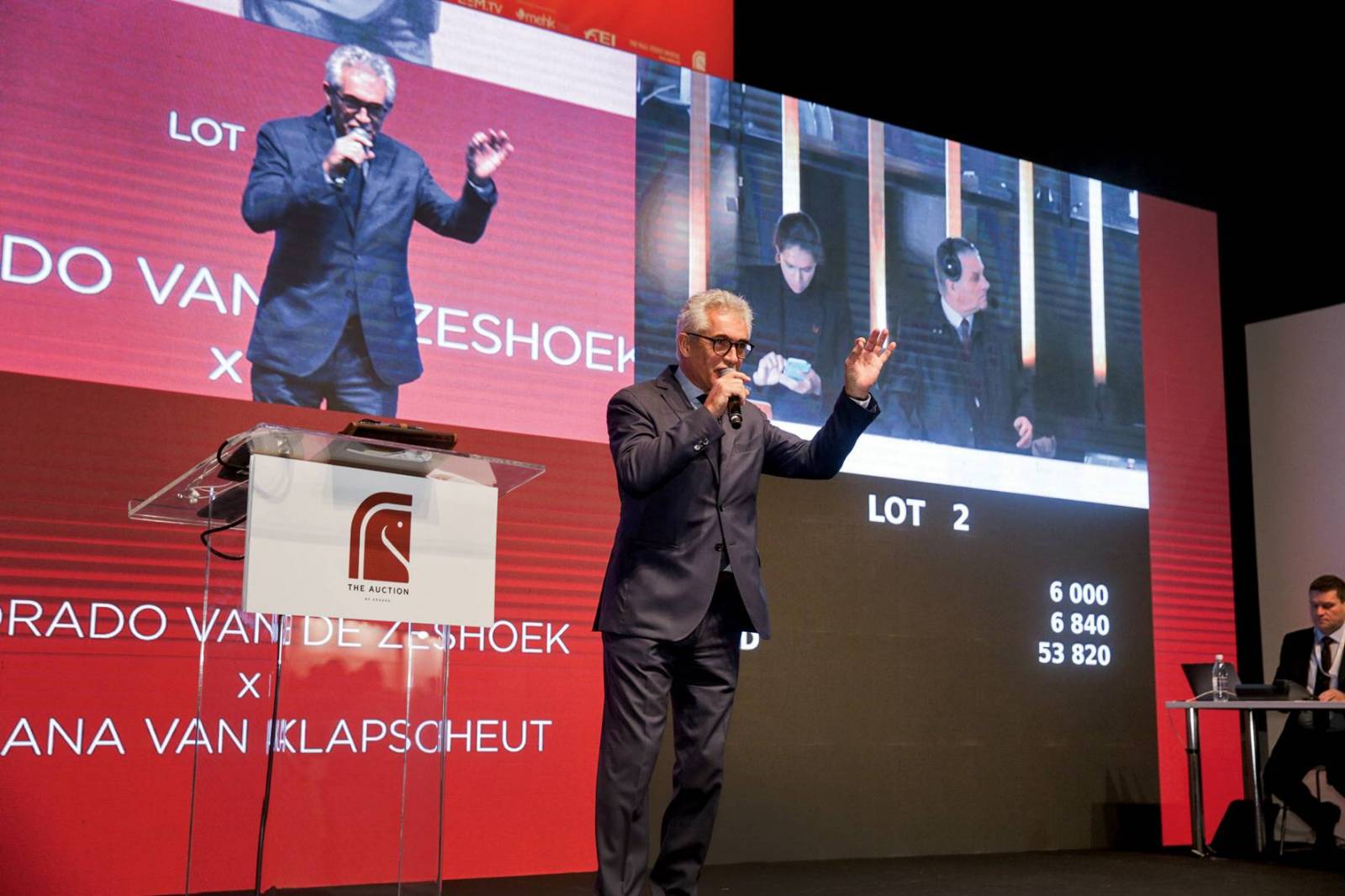 THE AUCTION BY ARQANA, "ACT 1: THE EMBRYO COLLECTION" IN DEAUVILLE IN DUPLEX WITH HONG KONG, 2019
Subscribe to the Newsletter
Subscribe to the Newsletter
To keep the emotion, subscribe to the Newsletter